Intelligent traffic outstanding Glare-LED LED Variable speed limit screen Layout Jilin Expressway Network
Recently, Glare-LED 100 sets of LED variable speed limit screen layout Daguang, Fuchang, Heda, Hunwu, Jingha, Changping high-speed, for Jilin Province Expressway road network "screen" Tim Smart style, build a security barrier.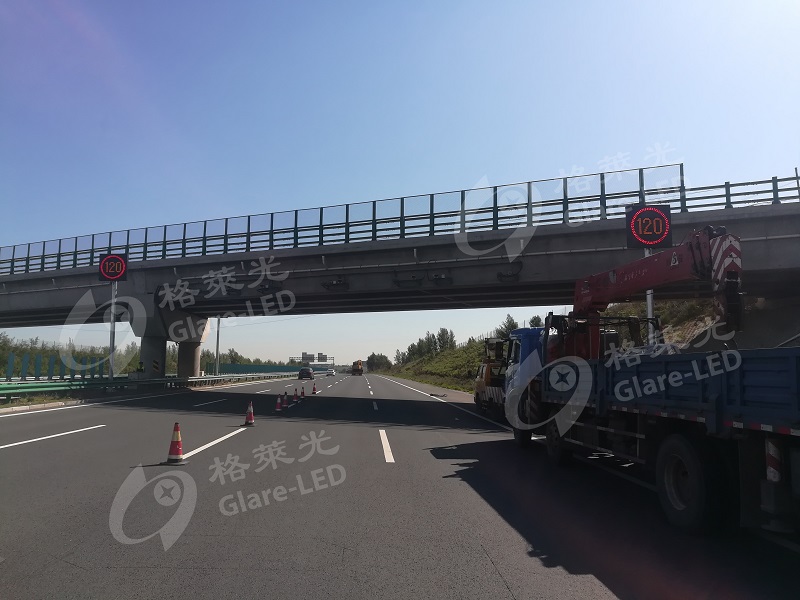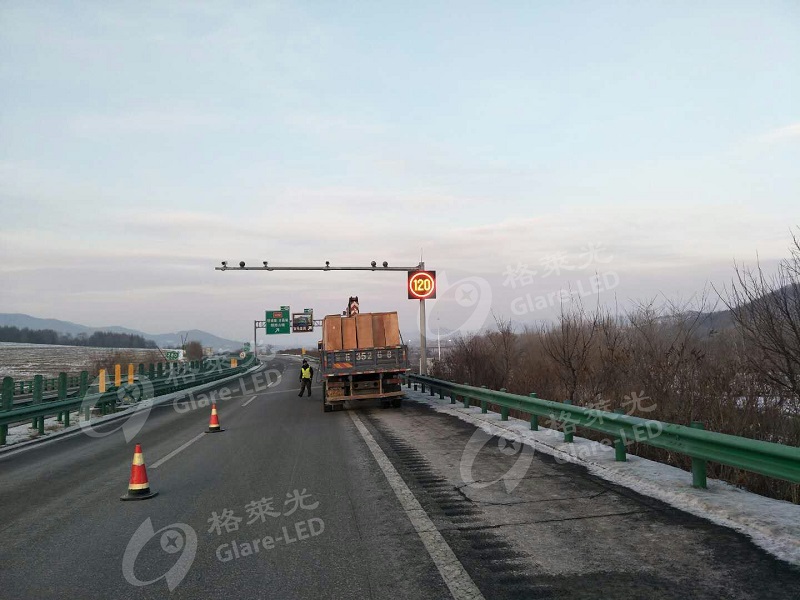 LED variable speed limit screen Layout Jilin Expressway Network
It is reported that the batch of P33.33 led variable speed limit screen by Shenzhen Glare-LED Optoelectronics Co., Ltd. Design and production, was successfully delivered last November 20, and in July this year to achieve full installation and qualified acceptance.After the completion of the project, 100 sets of LED variable speed limit screen will be engaged in northeast cold weather, for high-speed safe travel escort.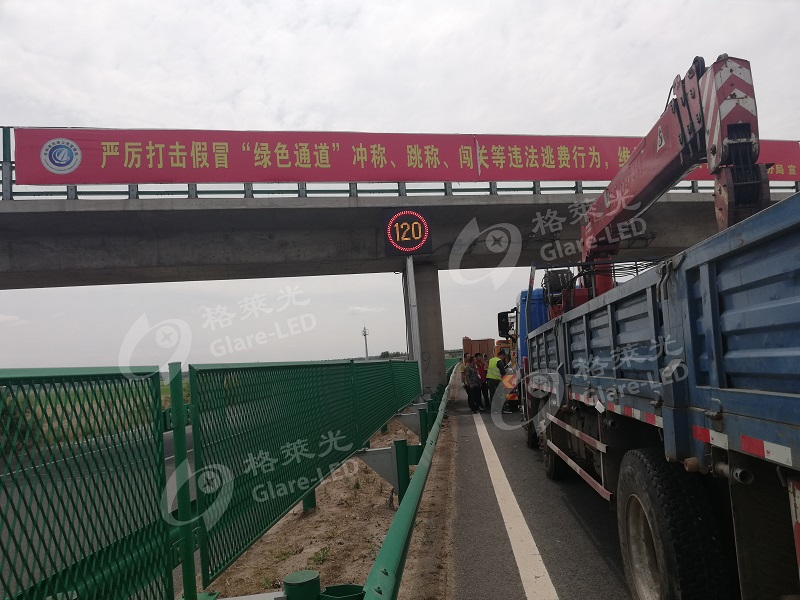 Jilin Province is located in mid-latitude Eurasia East side, spring dry windy, summer high temperature rainy, autumn Qishuang, winter cold long.The winter generally lasts from the end of October to the beginning of April, with a minimum temperature of 30 ℃ and an average temperature of 11 ℃ below.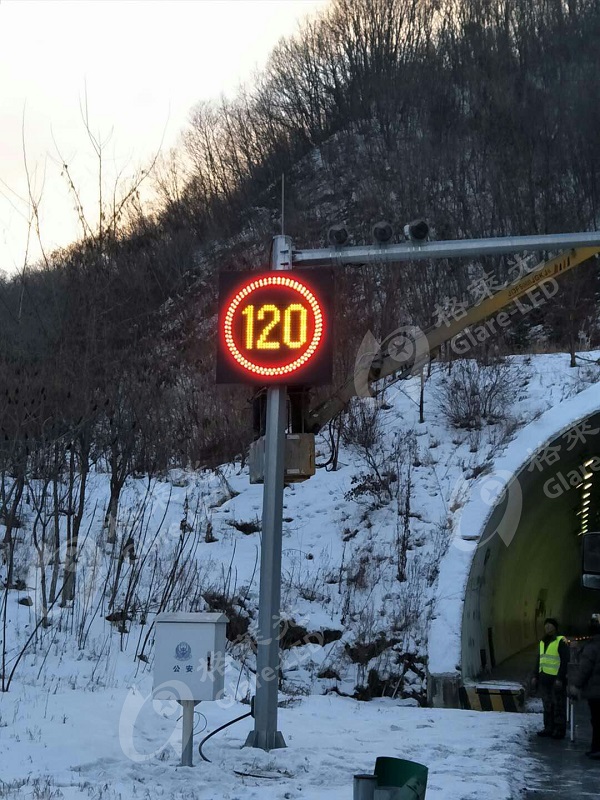 Cold weather is a serious challenge for the Northern Expressway. For a long time, the winter high-speed driving, security risks clustered, harsh climate constantly. How to avoid traffic accidents and improve the safety of road network?Become the pipe and the majority of owners of the voice and pain points.
Direct hit high-speed pain point the way to cope with bad weather
It is indispensable to guarantee high-speed road network safety, construct passive defense system and enhance the consciousness of independent security.In the long winter, Jilin Expressway Network is facing the road icing, fog haze cover Day, Snow Seal road and other bad weather, how to prevent it?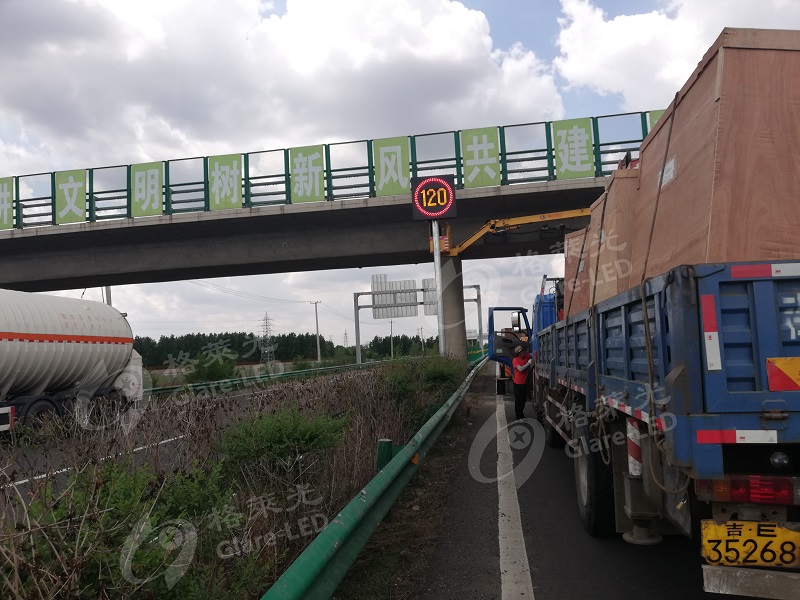 On the one hand, the cold area will adopt the defensive measures such as hydrophobic antifreeze, snow melting and ice removal. such as reasonable planning drainage pipeline, spraying antifreeze, salt melting snow, additional mechanical snow removal. On the other hand, make the expressway warning and safety guidance ahead of time.such as placing cone-shaped bucket compression lane to reduce risk of slip, install road signs warning vehicles to prevent sharp bends, fork, upper and lower slope and Accident section, set up LED variable Information screen real-time disclosure of important road information, the setting of LED variable speed control screen to speed up the flow of traffic.
10 accidents nine times faster, speeding greatly increased the risk of driving. In the rain and snow haze weather, the traditional traffic signs identification low, combined with dust mud shelter, visible distance greatly reduced, and the speed limit value is not variable, difficult to adapt to increasingly complex traffic guidance needs.For high-speed congestion, roadblocks, accidents prone sections, especially in bad weather, led variable speed limit screen high visibility, warning effect is good, can guide the early deceleration of traffic, reasonable control speed.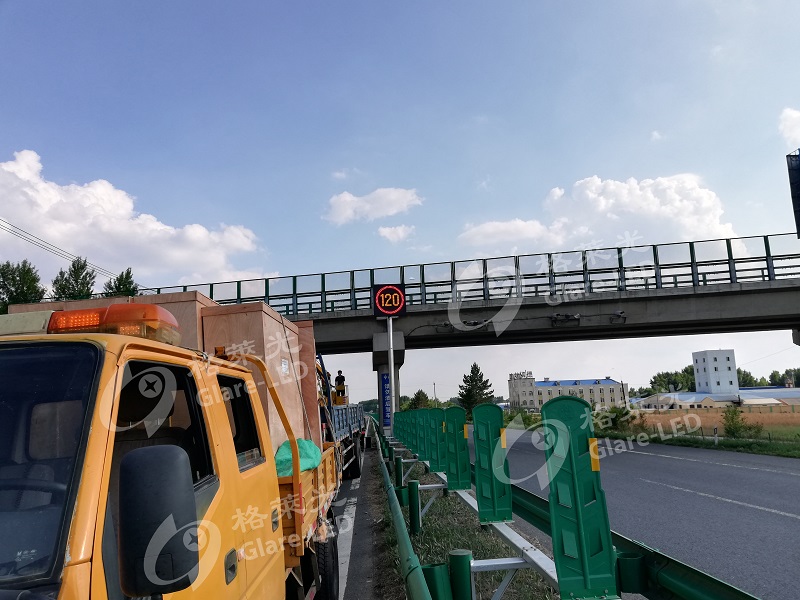 Technology specializes in LED transportation applications
Glare-LED P33.33 LED variable speed limit screen with high luminous efficiency, light-shaped concentrated glare, brightness can be adjusted with the environment, IP68 Waterproof and other notable advantages, is a high-speed intelligent transportation in the field of customized products.Traffic Screen series has passed the National Ministry of Transport Quality testing, the European Union EN12966 Quality certification, has a number of core technology patents.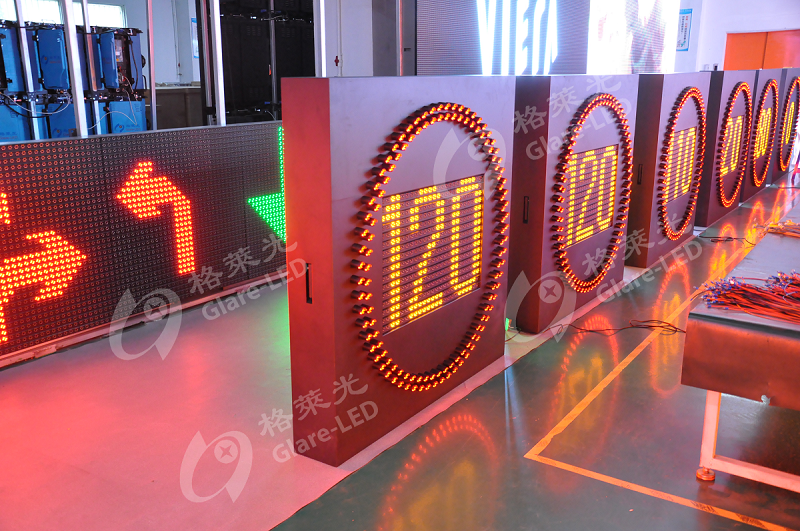 Jilin Expressway Network Project in the use of Glare-LED P33.33 led variable speed screen, can deal with -40℃ cold and 80 ℃ hot weather, the whole sealed double-box design to achieve a good thermal insulation function, PCB coating conformal paint, waterproof wide rubber ring design without fear of day and night temperature difference, more intelligent cooling system.The intelligent fan starts automatically at high temperature, guaranteeing rapid heat dissipation and reducing thermal dissipation.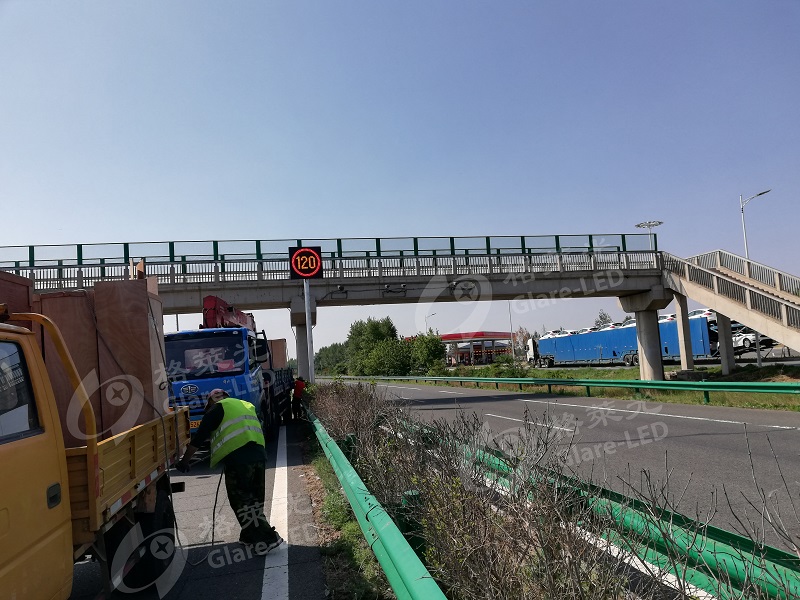 Embrace trends Smart Traffic extraordinary
Everything is safe, stability is the hard truth. LED traffic screen different from the traditional LED display, must be reliable quality stability, otherwise endless. Highway Traffic screen stretches thousands of miles, in the event of failure, will cause a lot of security risks, combined with maintenance inconvenience. Therefore, a high-quality and reliable LED traffic screen products are both standard and top with.
Glare-LED Traffic Screen series with high reliability, long life and other characteristics, deep-rooted led traffic applications and led gas station for more than more than 10 years, products and cases in more than 400 cities around the world, won more than 90 countries and regions of thousands of customers widely praised.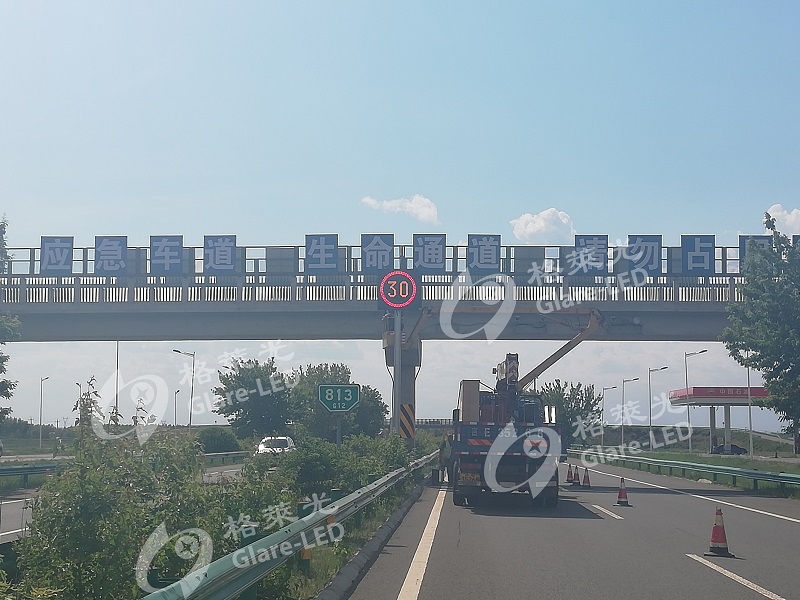 Today, Smart city, intelligent traffic construction has become a forest. In recent years, led traffic screen is becoming a new scenic line on Expressway, City Road and County and Township road.With the Forest City's natural landscape, historical and cultural cities of the humanities landscape slightly different, led traffic screen for the Intelligent transportation field injected fresh innovation and technology elements, for people's wisdom travel, safe travel presents a different technology landscape.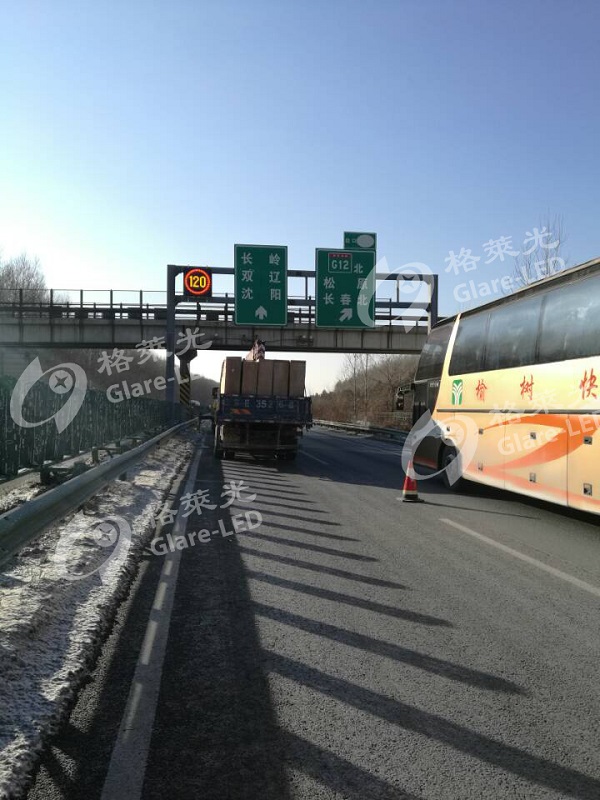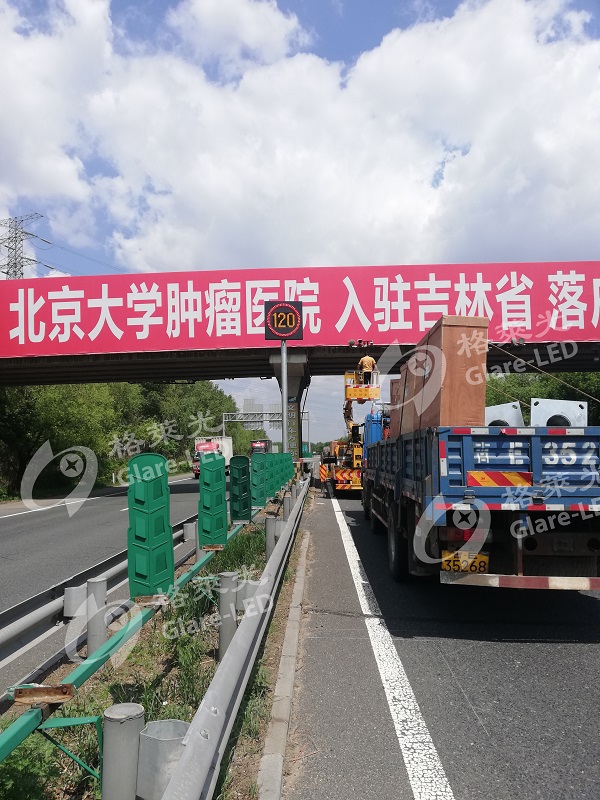 National Highway development achievements are obvious, Jilin Expressway road network lighting project can be seen as evidenced. We firmly believe that, like China Aerospace, China's high-speed rail, China's rapid development will show China's 2025 determination and courage, followed by the Belt and Road strategy, to the world to export wisdom and power, to create the well-being and the future.